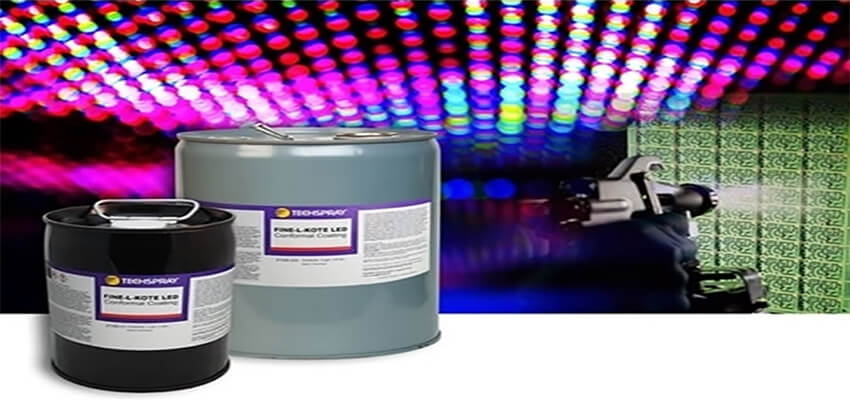 Formulations engineered for light emitting diode (LED) applications where optical clarity is required.
Silicone conformal coating designed to coat over LEDs.

Fine-L-Kote™ LED2 is specifically designed and formulated for light emitting diode applications, where a completely transparent coating is required to provide a tough, extremely flexible protective coating. It provides the highest flexibility for extreme temperatures on the flex and rigid circuitry found on LED displays and provides an outstanding non-stick surface for soil repellency.
Cured coatings are hydrolytically stable and retain their physical electrical properties after high temperature and humidity exposure, without interfering with light wavelength or intensity. Fine-L-Kote LED2 will not stress delicate circuit components and meets the performance parameters (without UV traceability) of MIL-I-46058C, Type SR.
Silicone - excellent moisture protection

Fully transparent - will not block light intensity or change wavelength

Flexibility prevents cracking

Resists salt, fungus and corrosive vapors from severe environments

Withstands high heat from PCB and operating environment Specifications: IPC-CC-830B (w/o UV), MIL-I46058C (w/o UV), UL94 flammability

rating V-0, MIL-STD 810G salt spray test.



Spray over LEDs without masking or selective spray

No reduction in light and color intensity

No color shift or light scattering

Fine-L-Kote LED vs Fine-L-Kote LED2