Short Supply of Dowsil 12577 and 12620 Conformal Coatings
For the last several months the electronics industry has been dealing with a short supply of dow corning conformal coating 12577 and 12620. This created a need for a viable, alternative conformal coating. The reduced supply is expected to continue for the next 10 months. And because of the shortage, customers are experiencing short shipments, outages, and increasing lead times. We're providing a solution to the shortage of 12577 conformal coating. Our Fine-L-Kote SRV silicone conformal coating was engineered as a turnkey replacement for Dowsil 1-2577 using an alternate base resin and formula.
Fine-L-Kote SRV Conformal Coating Is Your Solution
Now exists a window of opportunity for PCB assemblers to discover a replacement for their legacy coatings. This represents millions of dollars in new sales opportunities. Fine-L-Kote SRV isn't just a "good enough" alternative, in many ways it outperforms the Dowsil coatings. You can also acquire Fine-L-Kote SRV conformal coating in the high viscosity, Fine-L-Kote SRV950 version if needed.
Use Fine-L- Kote Conformal Coating to Protect Your PCB
Fine-L-Kote SRV is a one-part, clear conformal coating with moisture, corrosion and abrasion resistance. Low VOC coating for maximum flexibility and protection from extreme temperatures, harsh environments, and vibration damage. Silicone conformal coatings are the most universal coating, offering protection for a wide variety of environments. This coating offers resilient, mechanical stress-reducing protection. Utilizing a moisture/humidity-based curing mechanism, this coating cures quickly at ambient conditions.
This high-gloss transparent conformal coating provides ideal protection for both rigid and flexible printed circuit boards. Cured coatings are hydrolytically stable and retain their physical electrical properties after high temperature and humidity exposure.
Take a look at the chart below to see how Fine-L-Kote SRV compares to Dowsil 1-2577 and our other conformal coating formulas.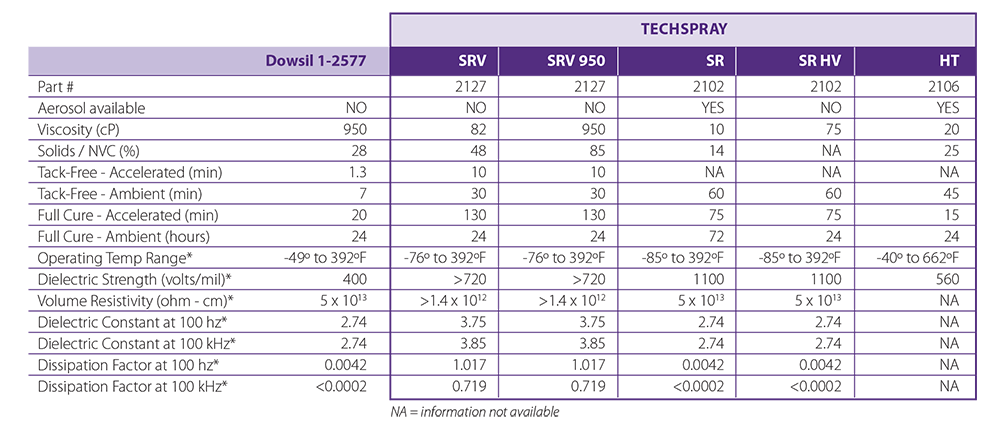 If you have any questions or concerns, contact us and we'll get you the answers that you're seeking.